2017 Hyundai Veloster Walk Around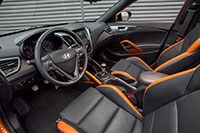 With even the stylish Civic hatchback copying Hyundai, the Veloster still looks fresh. With two doors on the passenger side and one driver's door, you can't really tell from looking at it what's going on. The one rear door is short, allowing the curvaceous roofline.
The Turbo stands out with LED lighting, piano-black grille, and side skirts.
Interior
The cabin is stylish, classy and sporty, going easy on the trim. Its innovative layout is enough. Hyundai says it has hints of motorcycle design, and we've looked and looked, and we guess so, if you have a big imagination. The center console maybe suggests a motorcycle seat, and the vents maybe look like motorcycle exhaust tips.
A big start button lies at the bottom of the center stack on some models.
The Veloster is narrow like a compact car, but there's good headroom in front, even with the optional panoramic sunroof. Tall drivers will be fine in the seats.
Back seat passengers might be miserable. It's a tight fit for even medium-sized people. The single door isn't very wide, so entry and exit to the rear can be awkward. If there are only two of you, you'll be likely to keep the rear seat folded, in which case it makes great and easy-to-reach cargo space, from the side or rear, which, however, is relatively high. And there are plenty of bins, cubbies, and nooks for stowing away smaller items.
Parking sensors are available on the base version and standard on the Turbo; they're a big help, since the low-slung Veloster has huge blind spots rearward, a consequence of its innovative door arrangement.