2017 Hyundai Santa Fe Driving Impressions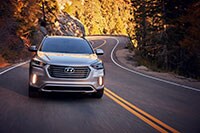 Considering the Santa Fe's size and V6 power, along with predictable handling, it performs reasonably well. Push hard on the gas and the automatic transmission downshifts eagerly, after a brief pause. Otherwise, shift quality is good, though you might notice a mild rebounding effect from the drivetrain.
The manual-shift mode reacts promptly, actuated by a console-mounted lever. Still, trying for full power when passing or merging might result in delayed downshifting. Use of Active ECO mode tends to slur throttle response and gearchanges, while saving only a little fuel.
Three-mode, driver-selectable electric power steering hails from the Hyundai Elantra GT. Normal mode will probably suffice for most driving, but Sport setting helps the vehicle track more accurately through stretches of highway. Eco mode limits performance, in favor of economy.
With its current suspension design, the Santa Fe delivers a calmer and quieter ride than its predecessor. Even with 19-inch wheels mounted, the suspension effectively dampens the worst pavement surfaces.
Hyundai has also made greater effort to stamp out noise and vibration. Suspension sounds have been toned down with improved isolation, while barely a whir can be heard from the drivetrain as the engine accelerates. Little is likely to be heard, apart from some tire noise that's evident to rear passengers.
Fuel economy runs around average, which isn't exactly thrifty. With front-wheel drive, the Santa Fe is EPA-rated at 18/25 mpg City/Highway, or 21 mpg Combined. All-wheel drive drops the highest estimate to 24 mpg, or 20 mpg Combined, which isn't much of a decline. Ultimate models were EPA-rated lower: 17/23 mpg City/Highway with front-wheel drive.