2017 Honda Pilot Introduction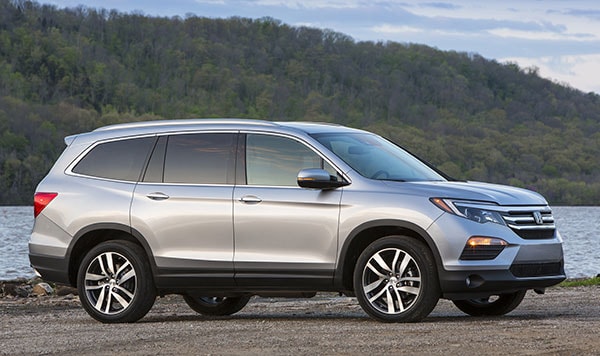 The Honda Pilot was redesigned for 2016, making it the third-generation of this crossover SUV. It carries over to 2017 unchanged.
The Honda Pilot was one of the first big crossovers, and it was a hit. With its rounded edges, the first-generation Pilot tried to look like the Ford Explorer, and it succeeded as a Volvo wagon for people priced out of Volvos. In the second generation it got boxy like SUVs, and that styling didn't work. Now in its third generation, it's rounded again.
With three rows of seats and seating for eight, it's Honda's most versatile vehicle. The ride is compliant and plush, the steering relaxed. It feels luxurious and mature, like its upscale sibling the Acura MDX. Front-wheel drive is standard, all-wheel drive available. On top of that, there's an optional traction management system for more traction in snow or mud. It can tow up to 5000 pounds.
Pilot pulls strongly with its 280-horsepower V6. It uses either a 6-speed or 9-speed automatic transmission. The 2016 redesign cut a lot of weight; it's now between 4054 and 4317 pounds, depending on equipment, while some rivals hit 5000 pounds.
In crash testing, the Pilot earns a Top Safety Pick+ from the IIHS, but it received only an Acceptable rating for headlamps, so be careful at night. It gets five stars overall from the NHTSA, with four stars from frontal crash results.
Safety equipment includes a wide-angle rearview camera, and as the models increase in price, more equipment is added, including blind-spot monitors, a LaneWatch camera with a wide view down the right side of the car, a multi-rearview camera, adaptive cruise control, lane-departure warning, active lane control, road-departure warning, and forward-collision warnings with automatic emergency braking. Also, it won't go into gear if the driver's seat belt is unlatched or the door is open.
With front-wheel drive and the 6-speed automatic, the 2017 Honda Pilot is EPA-rated at 19 miles per gallon City, 27 Highway, and 22 Combined. One less mpg with all-wheel drive. The 9-speed transmission improves that by about one mile per gallon. In our long-term road-test Pilot, we're seeing 19 mpg Combined.