2017 Honda HR-V Driving Impressions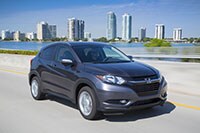 The HR-V feels gutless when the throttle is punched, thanks to the continuously variable transmission, which lags between shifts. However, on the EX models there is a sport mode that brings a bit of snap to the shifts, and using the paddle shifters helps a lot. Thank heavens they are there, to salvage some fun out of driving the car.
Overall, the engine is adequate; remember you're getting 31 mpg combined, and it is an SUV after all (with awd the combined mileage is 29 mpg).
With the manual transmission, the acceleration feels fine, zipping around town and out on the highway. However it gets 3 mpg less, at 25 city, 33 highway, and 28 combined. But give Honda credit for offering it, as an option to their unexciting CVT. If only they built a CVT with as much feel as Subaru.
The HR-V is designed for commuter driving, not hotrodding or offroading, so the ride is better than the cornering. The body motions are well controlled, and it never feels brittle, even on terrible roads. The suspension uses struts in front and a torsion beam in the rear, with standard 17-inch wheels; it's more absorbent than that on the Fiat 500X, Jeep Renegade or Chevy Trax.
As for handling, it's adequately confident and balanced, although far from entertaining on a twisty road. The steering is fairly relaxed. If cornering is what you want in a small crossover, the Mazda CX-3 is the way to go.