2017 Honda Civic Walk Around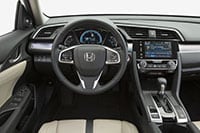 The sedan looks big, not like an economy car at all, with a sleek and sweeping profile like the Honda Crosstour. The sheetmetal might be exciting to a fault, with its creases, slits and intakes. It flaunts its size and edginess by being low and wide, with flared wheels and a wedged tail with Acura-like taillamps.
The Hatchback is the same as the sedan, from the B pillars between the doors to the front of the hood. But it's four inches shorter overall, so everything behind the pillars is distinctive, and downright swoopy for a so-called hatchback. The only thing hatchbacky about it is the back is a hatch.
Interior
The cabin is tame and organized, a horizontal dash with a single screen, almost a Teutonic flow. The dash is low and the front seat raises, so forward visibility is excellent. The gauges are clean and crisp, except on the deluxe Touring model, which gets a digital display on an LCD screen with a 270-degree tachometer.
There's a lot of room inside, enough for a six-footer in back with an inch of kneeroom to spare. There are many clever storage spots, and a big 15-cubic-foot trunk.
The Hatchback's passengers won't know it's not a sedan, although the trim is a bit different. The cargo space is a very generous 25.7 cubic feet behind the second row, so that's already way ahead of the sedan; and then when you drop the seat you get an awesome 46.2 cubic feet. Considering its four inches shorter than the sedan, that's dazzling.
Honda is working the cargo thing to young buyers, maybe those stepping up from a Fit who are spoiled by the cargo space created by the nearly flat-folding Magic Seats, including the front seats. The Hatchback also features an innovative sideways sliding cargo cover that can be stowed on either side. The Hatchback is nearly as quiet as the sedan and coupe with the cargo cover up, as it blocks noise from the open space in the back.