2017 Honda Civic Introduction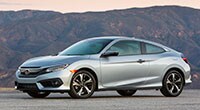 This latest generation of the Honda Civic is an outstanding compact car, available in sedan, coupe, and hatchback versions.
The Honda Civic is an institution, part of American life for 50 mostly successful years. In 2015 it was getting boring and slow, and for 2016 it was totally redesigned. This latest Civic sedan is three inches longer and two inches wider than the previous-generation model, nearly as big as a midsize Chrysler 200. The Civic was a contender again.
The sedan was followed later in the year by a coupe.
For 2017, the hatchback arrived, back to where it belongs. The 2017 Civic Hatchback brings the Civic full circle, to the very first one. Except hatchbacks sure aren't shaped like they used to be. This one looks more like a coupe.
Soon you can get a big wing on the back, with the Type R hatch. It will be the first time the Type R has been offered in the U.S.
The Civic in its upscale models feels more like a premium car than an economy car. The sedan has a smooth ride and general feeling of refinement. It isn't sporty but it handles well, and the brakes are smooth, and easy to modulate. It's calm.
The standard 2.0-liter four-cylinder engine making 158 horsepower, about the same as a Mazda3, isn't thrilling. It comes with either a 6-speed manual transmission on LX models that we really like, or a continuously variable transmission (CVT) that isn't new, doesn't have paddle shifters and is less than thrilling.
Fuel economy with the manual gearbox is EPA-rated at 31 mpg Combined, while the CVT rates 35 mpg.
You'll get the same mileage and have more fun with the quicker and more responsive 1.5-liter turbocharged engine making 174 horsepower. It has a better CVT, as well.