2017 Genesis G90 Walk Around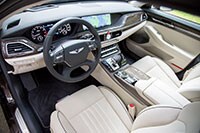 Its styling may not be adventurous, but the G90 has an upscale curbside presence, its long, low rear-drive proportions suggesting power and luxury, which of course is the whole idea. If it isn't exactly a head-turner, it's no wallflower, either.
The styling appears derivative, with elements that appear borrowed from elsewhere. The going-away view, for example, has strong hints of Mercedes-Benz, while the big, bold grille treatment looks as though it could have been come from a design studio in Ingolstadt, Germany, home of Audi.
Colors, a dark blue, a brown, and a quartet of silver grays, are on the somber side, and the standard 19-inch wheels come in just a single design.
Interior
Attractively designed and elegantly appointed, the inner G90 is a essentially a textbook example of how a luxury car should be equipped. Leather seats (heated and ventilated up front, of course): check. Multi-way power adjustability (22 ways for the driver): check. Leather on the dash, door panels, and steering wheel: check. Premium (17-speaker Leixcon) audio: check. Power soft close doors: check.
Power moonroof: strangely absent. There is no rear-seat entertainment system, the windows cannot be lowered by pressing a button on the key fob, nor can the car be started remotely.
Back to the positive side of the ledger: Interior trim includes real wood, stainless steel, and aluminum, handsomely done. A 7-inch information screen resides between the major gauges (tach and speedo), no squinting required to read this one, and that goes double for the lucid icons on the big (12.3-inch) screen in the center of the dashboard.
Another nice detail: a color head-up detail (no squinting for this display, either). As you'd expect, the G90 is equipped with the latest driver-assist safety features. And, a little pampering, three years of free service, including valet service and free loaners.
As noted, there's plenty of move-around room in this posh interior. And interior noise levels at freeway speeds are extraordinarily low.
A couple of quirks: The electric parking brake is on the dash to the left and below the steering wheel, not the first place we looked for it. Also, sliding the shifter leaves the transmission in Reverse, not Park, which is engaged by pressing a button.