2017 Genesis G90 Introduction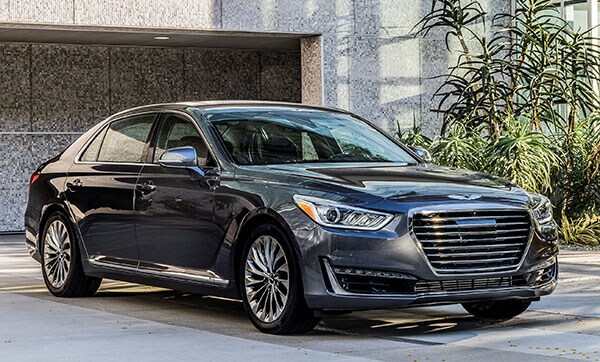 The 2017 Genesis G90 is a totally new luxury sedan from Hyundai, larger than any previous Genesis, and available with all-wheel drive and a V6 or V8 engine.
Brand startups are expensive, risky and consequently rare in today's automotive world, but here's Hyundai jumping into a market segment, luxury prestige, that's populated by brands that have been building on their pre-eminence for decades: Acura, Audi, BMW, Cadillac, Infiniti, Jaguar, Lexus, and Mercedes-Benz.
However, unlike other startups, most recently Tesla, Genesis isn't exactly starting from scratch. The brand name has been with us since 2008, with a Hyundai prefix, and the sedan we've known as the Hyundai Genesis now becomes the Genesis 80.
But if the brand isn't totally all-new, the G90 is. It's the brand's flagship, the first of a variety of new offerings that will be unique to the Genesis brand, and it's typical of Hyundai's approach to the business: solid engineering, first rate assembly, attractive styling, lots of standard features, and an exceptional price-value index.
This is a big sedan, similar in size, and roominess, to the long-wheelbase Audi A8L and BMW 7 series. It's not quite the biggest among its contemporaries, but the G90 is sizable and handsome enough to create the right kind of presence at the country club, the kind of car that winds up in the front row of valet parking at Spago's, in L.A.
There are two engine options: a twin-turbo 3.3-liter V6 (365 horsepower, 375 pound-feet of torque) and a 5.0-liter V8 (420 hp, 383 lb-ft), both paired with an 8-speed automatic transmission.
All-wheel drive is an option with both engines.
EPA fuel economy ratings are 17/24 mpg City/Highway for the V6, and diminish slightly with the addition of V8 power (16/24 mpg) and all-wheel drive (15/23 mpg).