2017 Genesis G90 Driving Impressions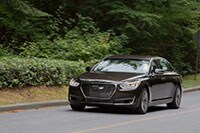 Our initial G90 driving experience was at the official press preview, held in British Columbia, and consisted almost entirely of a freeway run from Vancouver to Kelowna, about 300 miles total.
This is not the kind of driving that provides a comprehensive picture of a car's dynamic capabilities, but even so a few solid impressions emerged.
Tops on the list is quiet operation. As a general rule a chapel-silent interior is a solid asset in a luxury car, and the G90 is going to rank near the top of its class in this metric. Set your decibel meters to whisper.
Ride quality will likely score well with most prospective owners. Although the multi-mode driving choices (Eco, Smart, Individual, Sport) allows the driver some tuning latitude with the Sachs/ZF dampers, the G90 is a smoothie. Even in Sport mode there's nothing in its freeway behavior to suggest autobahn development, the trait that distinguishes the high roller Germans.
Steering firms up as speed increases, but it lacks much in the way of tactile information for the driver, not much sense of just how much the front wheels are turning, and very little on-center feel, regardless of speed.
Power: it's hard to imagine anyone being dissatisfied with the straight ahead performance of the 3.3-liter twin turbo six, and it's hard to imagine that the 5.0-liter V8 would add a great deal to the G90's off-the-line thrust. The extra horsepower would show up as the speedo climbed past 60.
We didn't log any seat time with the V8 version, so impressions on that one will have to wait for a later date.