2017 Ford Transit Connect Introduction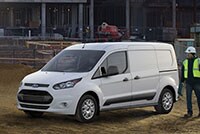 The Ford Transit Connect is like a minivan only cooler, if you have mountain bikes or motorcycles or kayaks or dogs and stuff. Or like a minivan, only who-would-want-a-truck? It's not likely to be in demand among soccer moms. But it's well worth reviewing. Built on the Focus platform, it's polished, flexible, thrifty and nimble. A lot of people need one and don't know it.
Transit vans blend into the road scene, usually with signage from a tradesman. They make a compelling case for business. Ford brought the first Transit vans over from Europe, where small work vans are ubiquitous, and we're finally catching on to the intelligence of them. If there weren't a strong market, the Transit wouldn't have competitors like the Chevrolet City Express, Ram ProMaster City, and Nissan NV200.
The vans are front-wheel drive, with two four-cylinder engines available: a 2.5-liter making 169 horsepower, or 1.6-liter turbo making 178 hp. Both use a six-speed automatic transmission.
It can tow up to 2000 pounds with the 2.5-liter engine and tow package; while payloads range up to 1270 pounds, which isn't all that much.
There's the Transit Connect and Transit Connect Wagon that seats up to seven, although with less room and comfort than a minivan. But the driver will love it, for its responsive handling and steering. It's the most nimble and sporty three-row vehicle we've come across in a while.
The interior is definitely not cargo van-like; in front at least, the cabin feels like the Ford Focus, Fiesta or Escape. It's tight and quiet inside. Lots of convenient buttons on the dash.
Different models get different fuel mileage, but you can figure on about 22 miles per gallon city, 29 highway, and 24 combined. A bit more for the 1.6-liter turbo than the 2.5-liter four. If you want to abandon gasoline altogether, natural gas and LPG models are available.
The Transit Connect has six airbags for driver and passenger, while the seven-passenger Wagon models have three-row airbags, and the five-passenger models have two-row curtain airbags. The NHTSA gives it five stars overall in crash testing, with four stars for frontal impact and five stars for side impact.
All that's new for 2017 is a roof rack.