2017 Ford Super Duty Introduction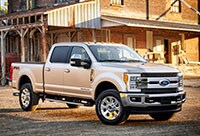 The Ford F-Series Super Duty lineup has been completely redesigned for 2017, and there has never been a better time to tow or haul with an F-250 or F-350 or, for that matter, an F-450.
Fresh styling highlights a new aluminum-alloy body. Beneath that, is an all-new fully boxed frame that's significantly lighter yet dramatically stronger than previously, a benefit of its extensive use of high-strength steel.
The optional 6.7-liter Power Stroke turbo diesel V8 produces an awesome 925 foot-pounds of torque. The standard 6.2-liter V8 is rated at 385 horsepower, 430 foot-pounds of torque.
Adaptive steering slows the ratios at high speeds for enhanced stability, increases at low speeds to ease steering in tight quarters. Adaptive cruise control is available for use even when pulling heavy trailers. All the latest safety features are available, among them tire pressure monitoring for the trailer, a blind-spot monitor that will work for trailers up to 33 feet long, lane departure warning, forward collision warning.
New convenience features include a camera aimed at the truck bed, useful for hooking up a gooseneck. An optional tow camera setup uses four cameras for a 360-degree view around the truck. Backing up is eased somewhat with trailer reverse guidance visual cues on the rearview camera. Also available: a trailer camera, useful when backing up. Cameras every which way, seven all told.
The styling looks new yet familiar at the same time.
Though completely new, much of the 2017 Super Duty cabin will seem familiar to anyone accustomed to the previous-generation models. It's the same, only different.
A large number of Super Duty trucks are basic XL models purchased for commercial use, people who buy trucks that other people have to drive. Lariat and King Ranch models are favored by those who buy F-250s and F-350s for personal use, towing trailers, hauling you name it. Crew Cabs are popular because they make for an incredibly capable and versatile vehicle.
Most popular for towing trailers are an F-250 short bed or an F-350 long bed dually. Choosing between them can be difficult. What we've found: The F-250 tows very well and is much easier to park. The long dually does indeed substantially increase stability when pulling a big trailer, but it's less convenient as a daily driver.
A properly equipped 2017 F-350 is rated to a gooseneck capacity of 32,000 pounds.
The Ford F-350 compares with the GMC Sierra 3500, Chevrolet Silverado 3500, and Ram 3500, while the F-250 can be shopped against the Chevy Silverado 2500, Sierra 2500, Ram 2500, and the Nissan Titan XD.