2017 Ford Mustang Walk Around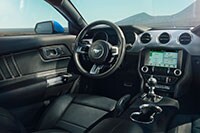 The Mustang has muscular haunches and swollen fenders, a low and wide stance, and graceful fastback canopy. Some models have an available black roof. Some of the details are soggy, and tarnish the lines: for example a tilted taillight panel that looks like it came off a MoPar, and white lighting hash tags at the headlamps have a "Miami Vice" vibe. There's also some imbalance between the hefty sides and thin pillars, making it look like a Pontiac Grand Prix coupe from back in the day.
A couple of appearance packages might enhance the style. We might not like the ebony treatment in the California Special, but the Black Accent Package has 19-inch black alloy wheels, a black spoiler, dark taillamp trim, and mustang pony badging. And if you want more horses decorating your car, there's the Pony Package with more brightwork. (Ferrari shoppers pay a lot more for those, making the Pony Package an excellent value.)
Interior
The youthful cabin has more richness to it than the Camaro's. The aviation theme delivers large, clear gauges and information located directly in front of the driver, and the ergonomics are good, with tactile switches and knobs. However the pre-2015 Mustang instrument panel was better organized. There's a bar like a metal chin-up bar that crosses the dash and adds an appearance of strength, but it reduces the dual binnacles to eyebrows. And the combination of surfaces and textures wasn't perfect on the cars we drove, not as good as the Ford Flex.
There is generous room in the front seats, and the available (but not inexpensive) Recaro seats are great, a big improvement over the standard sport seats. There's more interior room and headroom than in a Camaro, but the rear seats are still just gestures, with no chance for an adult to sit upright.
The trunk will hold two golf bags, but otherwise it's just okay for a weekend, with 13 cubic feet. Make that 11 with the top audio system that needs trunk space for its bits.
As for bins, it's a good job. The cupholders, cell phone slot, and USB port are perfectly located.
The Mustang feels relatively quiet and refined, even with engine noise we wish we could change, or turn off. The four-cylinder buzzes with an artificial noise pumped into the cabin that is neither pleasant nor evocative of performance.
The V8 is almost the opposite, with a lovely sound that's suppressed behind a thick wall of sound deadening. We miss hearing the sweet note.
The sleek insulated top on the Mustang Convertible soaks up of a lot of road noise, and that's a good thing.
Outward visibility is better than might be expected for a car shaped like this. There are blind spots, but if you turn your head, the rear glass exposes enough.