2017 Ford Fusion Hybrid Driving Impressions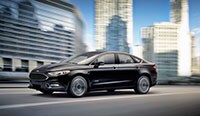 Handling has been a strong point in Fusions, and both hybrids hold the road capably. In fact, they stand above any gasoline/electric competitors, though both models are heavier than other Fusions and less athletic when cornering. Steering is slow, however. When running through a series of turns, you'll probably turn the wheel more than expected.
Regenerative braking from the hybrid system also is among the best, with near-seamless transitions between regular braking and the action of the regenerative setup.
Expect a smooth, quiet ride in either model, helped by an amply-isolated engine and a low overall noise level at all speeds. Even the low-rolling-resistance tires transmit little noise into the cabin. They keep the ride firm, but not jarring. Active Noise Cancellation sends what might be called anti-noise through the door speakers, cancelling out certain frequencies that might otherwise be bothersome.
Ford's Hybrid engineers have improved control software and modified the electric motor, promising better driving responses from the current models. They aim to make Fusion hybrids feel even more like regular gas-engine cars. The goal is to achieve engine responses that closely match increases in road speed.
As for fuel economy, the Fusion Hybrid is EPA-rated at 44/41 mpg (City/Highway), or 42 mpg Combined. Those are admirable figures, yet the latest Chevrolet Malibu Hybrid achieves a 47-mpg combined estimate. The Fusion Energi plug-in is EPA-rated at 38 mpg combined (88 MPGe equivalent).