2017 Ford Flex Walk Around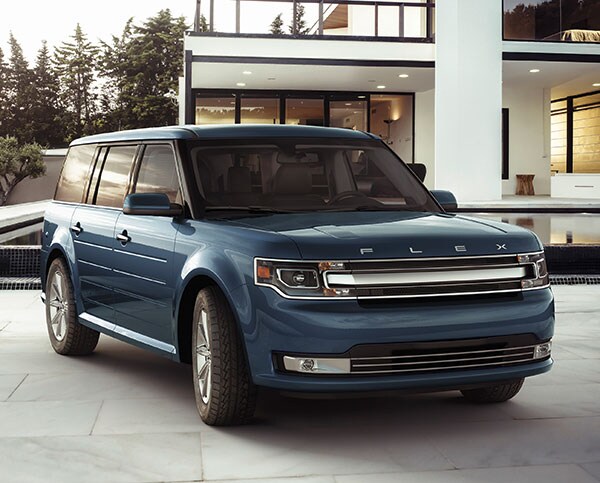 The Flex shows its age in the cabin, with dated styling. It hasn't changed much since 2008, except for a revision of the centerstack and slight upgrade to materials. The instrument panel is low. The Flex clearly, if lightly, copies the Mini dash that was all the rage back then. The centerstack houses the large SYNC3 touchscreen interface on SEL and Limited models, along with capacitive touch controls for climate and audio.
The fit and finish are good, with soft materials and upholstery in front that feel luxury grade, at least in the SEL and Limited. And it's fairly quiet inside, after sound deadening material was added in 2013.
But it's still mostly about passenger comfort and space: seven people and 20 cubic feet behind the third row. With wide door openings and a tall roof, it's easy to climb inside. Long windows keep the interior bright; anything else would make the Flex feel like a cargo van.
The front and second-row seats are wide and comfortable; in fact they're a pleasure. The second row is a 60/40 that seats three and folds easily and quickly; optional captain's chairs seat two for six-passenger seating capacity. The Flex's Volvo roots show (back in 2008, Ford owned Volvo) in the second row, where there's more headroom and legroom than many crossovers.
The third row is 50/50 that seats two and folds easily. Not only that, but we put a 6-foot, 6-inch editor back there, and he emerged smiling with his knees still working. The seat isn't padded as well as the second row, but it's fine for short trips. The tall roof means passengers have to bend less to get back there, although it's still not as tall as a minivan.
With both the second and third rows folded, there's 83 cubic feet of space, which is 20 cubic feet less than the Traverse and just a bit less than the Pilot.
Interior
We wouldn't expect a car with the dimensions and weight of the Flex to be fun to drive, but it is relatively so, thanks to clever engineering and suspension black magic that minimizes the effort to move 4600 pounds around highways, towns, and parking lots. The Flex feels like a wagon, with fairly crisp steering and a compliant ride that only gets bouncy if you drive too fast in tight corners.
The electric power steering, hard-mounted to the chassis subframe, has a quick ratio. The steering loads up predictably, and there's even a little feel of the road coming through.
The brakes have been improved with more surface area, a larger master cylinder, and sharper booster tuning, to give a stronger bite and more feel to the pedal.
The good powertrains deserve some credit for making the Flex stress-free. The base V6 brings 288 horsepower and 254 pound-feet of torque, enough to make acceleration adequate, while the 6-speed automatic shifts with grace. We've found that it performs best with simple front-wheel drive, because of the extra 200 pounds that comes with the all-wheel drive. If you need AWD, go for the V6 turbo that makes 365 horsepower.
That all-wheel-drive system is quite smart, with sensors that measure yaw, steering angle, and throttle. They work with the paddle-shifting 6-speed automatic transmission, which won't upshift when you're in a corner or climbing a hill. But if you ease off the throttle it will upshift.
Final Word
The Flex has eminent charm, if you have the need. There's no other vehicle quite like it. It's a pure people-mover. With all-wheel drive and a hot turbocharged V6 with paddle shifters, it's worthy of respect; and with the black appearance kit, it takes a step deeper into its own world. But it's not cheap.
Sam Moses contributed to this report.