2017 Ford Flex Introduction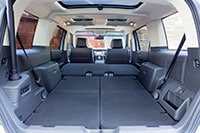 The Ford Flex has been around for nearly a decade, and gone mostly unnoticed even though it was original and generally considered a good idea. It's like a small school bus that feels like a car but seats seven.
The 2017 Ford Flex is unchanged except two new colors. The Ford badge has been erased from the grille. It's just Flex, pasted on the nose. A lonely blue oval lingers, relegated to the lower right corner of the rear hatch, as if Ford is quietly waving bye-bye.
To be sure, the Flex doesn't carry that many more passengers than some crossovers, it just carries them more comfortably. The wheelbase of 118 inches is 8 inches longer than a Honda Pilot, but 1 inch shorter than a Chevy Traverse, and both the Pilot and Traverse have better third-row accommodations. The Flex focuses on second-row comfort and car-like driving dynamics.
Even as a 4600-pound school bus, the Flex is almost fun to drive, thanks largely to two good engines. The base 3.5-liter V6 makes 288 horsepower, and with a 6-speed automatic it does the job, although we wouldn't exactly call it quick. It's front-wheel drive, with all-wheel drive available.
The optional engine comes from the potent Taurus SHO. It's a turbocharged V6 making 365 horsepower, also with a 6-speed automatic, with paddle shifters. It only comes with all-wheel drive.
With the base engine and front-wheel drive, the Flex gets 16 miles per gallon city, 23 highway, and 19 combined, according to the EPA ratings. That's about 2 mpg less than the three-row Hyundai Santa Fe and 3 mpg less than the Honda Pilot. The Flex turbo V6 with all-wheel drive gets 15/21/17 mpg.
The NHTSA hasn't crash tested the Flex, and the IIHS gives it mostly Good scores except for an Acceptable in the difficult small overlap crash test. All Flexes have Curve Control and torque vectoring, systems that combine with the electronic stability control to help the Flex corner better.
Six airbags are standard, as is a rearview camera. Advanced safety features, such as forward collision warning and blind-spot monitors, are available on higher models. Ford's MyKey system is also available; it allows owners (parents) to set limits on the speed, as well as entertainment features like stereo volume. Ford should market that system for the house.