2017 Ford Fiesta Walk Around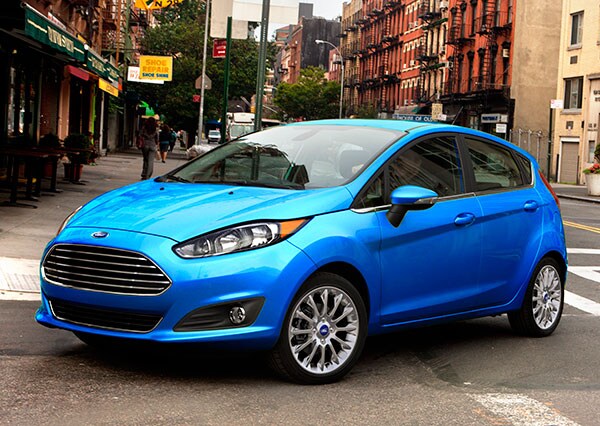 The Fiesta five-door has a crisp profile, with a wedge shape and arched roofline. The headlamps sweep back into the fenders, while a wide mouth with low fascia makes it look almost mean, for a subcompact.
The proportions aren't the same with the sedan. Definitely not crisp. Its long body and short greenhouse make it look tall and narrow from every angle.
The ST brings it all together, emphasizing the confident lines with an aggressive air dam and black mesh grille, along with a low stance on chunky wheels, and cross-patterned rear diffuser with twin exhaust tips.
Interior
The cabin hasn't changed much since the Fiesta joined us seven years ago, and it shows. The plasticky feel lingers, and the infotainment screen isn't integrated. Other subcompacts have managed to find more interior room with their redesigns, but the Fiesta still feels cramped and busy inside, with too many switches and knobs on the dash.
The S model seats are flat and unsupportive, although we can't think of any subcompact with good seats in their model that's stripped for the sake of low entry cost. And the driving position itself is excellent. The SE seats have better fabric and contours, but still feel like bar stools. And like in a bar, you might be rubbing elbows with the person next to you. The optional $2000 Recaro seats on the ST are great, but for two grand we expect no less than greatness.
In back, legroom and headroom are very tight; three adults don't fit. And the 60/40 rear seats don't fold flat.
There isn't anywhere near the amount of cargo space in the rival Honda Fit, for example. The Fiesta offers 26 cubic feet, while the Fit has twice that. At least the sedan has a good-sized trunk, with 12.8 cubic feet.
Thank heaven for small things. The soft-touch materials on the dash and doors, around the plastic, are fine. And the Sync 3 system, with its 6.5-inch touchscreen, is a feature you might expect on a more expensive car. The cupholders are well placed, and there are plenty of small storage bins. The cabin is also fairly quiet for a subcompact, with a sound blanket under the hood to dampen the coarse-sounding engine, and a laminated windshield.
The ST goes the other way, with piped-in intake noise. In that car, we like it.