2017 Ford Fiesta Driving Impressions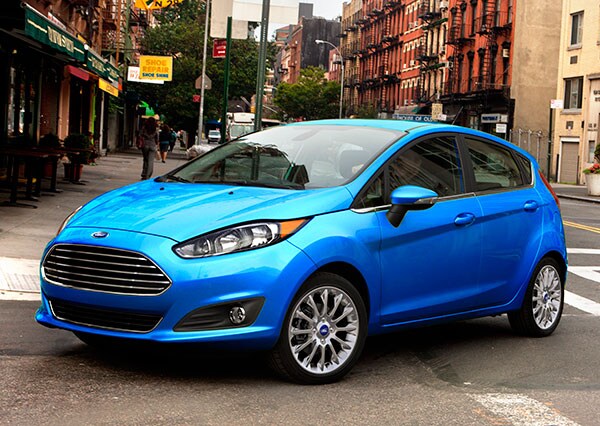 With the base engine and fine 5-speed gearbox, it takes some work to be happy with the performance; you have to keep the revs up because there isn't a lot of torque. But at least you can find that happiness, at least, if you can ever be happy with ten seconds from zero to sixty miles per hour. But don't forget, it's an engine that can get 36 highway miles per gallon.
For us, it's harder to be happy with the higher-tech 6-speed twin-clutch automatic manual transmission. It doesn't always downshift promptly or upshift as smoothly in the lower gears as an automatic transmission. We'd say it does a poor impression of an automatic, with these clunky and poorly timed shifts.
Not unlike the original Mazda Miata, the Fiesta's good steering and suspension tuning makes it feel hotter than it really is. The electric power steering is just right, in its weight and feedback. The Fiesta is nimble, responsive, and secure on the highway.
At least it's secure on a smooth highway. With a short wheelbase, the Fiesta tends to hop over rough pavement, and the nose dives under hard braking.
If 120 horsepower and 36 highway mpg is okay with the base engine, 123 horsepower (with more torque) and 43 highway mpg seems worth $1000 extra for the three-cylinder turbo. It has a distinctive exhaust note, to boot; three-cylinder engines tend to howl. You still have to shift a lot to run with the fast guys, but it's fun.
But for real fun, it's the 197-horsepower, 1.6-liter turbocharged Fiesta ST. And since it comes with a standard six-speed manual transmission, there's no twin-clutch downside (but there's also no upside, for those who would like an automatic). Its 214 pound-feet of torque comes at just 1400 rpm, so response is always there. When you add a lowered and stiffened suspension, rear disc brakes, quicker steering ratio, and torque vectoring to minimize if not erase torque steer, the ST can easily take on the Mini Cooper S, Hyundai Veloster Turbo, and Volkswagen GTI.