2017 Ford F-150 Introduction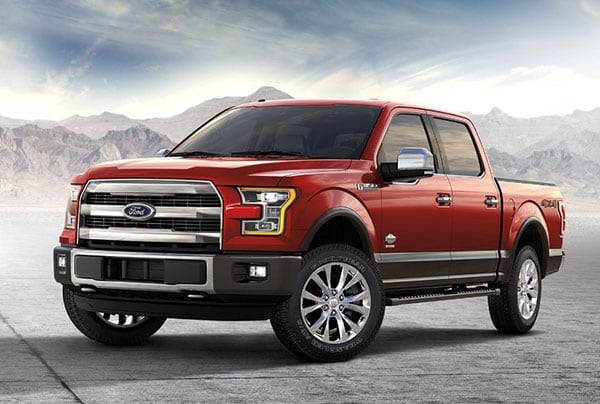 The 2017 Ford F-150 is the most innovative of the full-size pickups. The 2017 F-150 lineup offers a completely new powertrain option in the form of a redesigned 3.5-liter V6 engine and a new 10-speed automatic transmission.
The new second-generation 3.5-liter Ecoboost engine boasts 470 foot-pounds of torque, 50 more than last year's first-generation Ecoboost, along with 375 horsepower. That output tops that of the optional V8 and helps the F-150 achieve a maximum tow rating of 12,200 pounds, sufficient for an enclosed car trailer with a heavy car aboard.
All told, the 2017 F-150 presents four different powertrains, three V6s, one V8, ranging from economy to impressive towing capability. The new 3.5-liter Ecoboost headlines the choices. There is a 2.7-liter Ecoboost V6 we found impressive rated at 325 horsepower and 375 foot-pounds of torque. And there is a 282-hp 3.5-liter Ti-VCT V6, an old design sold mainly on its price point. The 5.0-liter Ti-VCT V8 delivers 385 horsepower and 387 foot-pounds of torque for a tow rating of up to 10,100 pounds.
Introduced as a 2015 model, the current-generation F-150 boasts a lightweight body made of high-strength, military-grade aluminum alloy, along with a frame that uses high-strength steel to further reduce weight, dropping more than 500 pounds. Less weight means better fuel economy, quicker performance, shorter stopping distances, greater payload. Ford's SYNC 3 was added for 2016.
F-150 is the best-selling pickup, though the Chevy Silverado and GMC Sierra together outsell the Ford. It's a competitive market with strong products. The F-150 appears to be at the head of the field, along with the Silverado and Sierra, which were redesigned for 2014, and the Nissan Titan, redesigned for 2016. The current-generation Ram 1500 dates back to 2009, and a new one is expected for 2018. The Toyota Tundra is very dated, launched as a 2007 model. The F-150 is being restyled for 2018 and will be available with new and enhanced engines in fall 2017.
The 2017 F-150 is available in a wide range of trim levels and several body styles. Nearly all F-150 buyers opt for a SuperCab extended cab or a SuperCrew with four full-size front-hinged doors. Regular cabs are mostly fleet.
Plenty of safety technology is available, including a second-row inflatable seatbelt and Curve Control for braking assistance. An F-150 can be equipped with blind-spot monitoring and adaptive cruise control. A lane-keeping system nudges the truck back into its lane when sensors detect crossing of the double-yellow line. Pro Trailer Backup Assist can steer the rig when backing into a driveway or boat launch.
Ford's Super Crew earned a five-star overall crash-test rating from the National Highway Traffic Safety Administration (NHTSA). An optional camera setup displays a 360-degree view around the truck, helpful for parking or easing into a garage.