2017 Fiat 500X Introduction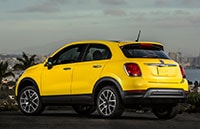 The 2017 Fiat 500X is a front-wheel-drive compact crossover with smart Italian styling inside and out. A new model for 2016, there are no significant changes for 2017.
Built on the platform of the Jeep Renegade, competitors for the Fiat 500X include the Honda HR-V, Buick Encore, Chevy Trax and Mazda CX-3. It fits neatly between the dainty Fiat 500 and dorky 500L, more in the mainstream as a tall hatchback, and less quirky than those two.
It's one of the more entertaining small crossovers this side of the costlier Mini Countryman. The ride is firm but not punishing, and the handling is responsive but not as quick as the Fiat 500. There's available all-wheel drive, but it doesn't give the 500X the offroad capability of the Renegade Trailhawk. To save fuel, the all-wheel drive actually detaches the driveshaft and rear differential from the front wheels, until wheelspin at the rear calls it back.
Base engine is a turbocharged 1.4-liter four-cylinder making 160 horsepower that's fun but unrefined, mated to a 6-speed manual gearbox that's a hoot. Only the Pop model gets this powertrain, which can also be found in the Dodge Dart. Fiat says only one in 20 500Xs will have this powertrain.
The powertrain that 95 percent of 500Xs will have is a 2.4-liter four cylinder making 180 horsepower and 175 pound-feet of torque, mated to a rough 9-speed automatic that Fiat is trying to improve. The engine dates back to the Dodge Caliber, and it's been much improved since then.
The EPA rates the turbocharged 1.4-liter 500X at 25 miles per gallon City, 34 Highway and 28 Combined; and the front-wheel-drive 2.4-liter at 23/31/27 mpg. The all-wheel drive gets 21/30/24 mpg.
It crash-tests well, at least from the IIHS, who give it the Top Safety Pick+ rating, including the top Good score for the notoriously difficult small overlap front test, as well as an Advanced rating for front crash prevention when it's equipped with optional automatic emergency braking. The NHTSA hasn't tested the 500X yet.