2017 Fiat 500L Walk Around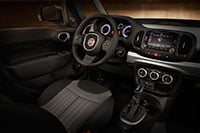 Starting with its blunt nose, tiered headlights and triple-section grille, the 500L isn't likely to earn any awards for rich design. The shapeless roofline doesn't help visual appeal, either.
Like nearly all less-than-lovely and graceless vehicles, this Fiat has its followers. Being realistic, though, Fiat fans who fell for the delightful little 500 coupe probably won't be likely prospects for this wagon, which some folks would simply call a high hatchback.
Distinctive trim elements on the Trekking trim level suggest off-roading, including 17-inch wheels and flared wheel wells.
Interior
Although cabin space isn't as big as might be expected, the tall roof provides satisfying headroom for each passenger. Five adults would be a squeeze, especially for large passengers, but four can expect to ride comfortably.
Front seats are short on comfort, due in part to bottom cushions that are quite hard. Cushions also are rounded, as in other European vehicles, to ease access to the pedals. Because they're not squared at the corners, leg support is limited.
Second-row seats are better, positioned higher than those up front, promising at least adequate leg space. Back seats are firm, but may be reclined. On some 500L versions, they can tumble down and also slide fore/aft, providing greater room for either passengers or cargo.
Storage space within the cabin is restricted to little more than the door pockets. A shallow tray divides the twin, small-size gloveboxes. In the cargo hold, a floor panel can be slid into side rails, to provide two-level storage. A pair of roller suitcases will fit back there.
As in other Fiat models, the steering wheel is close to horizontally oriented, making piloting the 500L a bit like driving a scaled-down bus. As a result, some people might have trouble finding a suitable driving position, which keeps the instruments visible. Reaching the pedals can be a bit of a stretch, too.
The dashboard centers on several oval-shaped controls, along with plenty of large knobs and a somewhat small touchscreen. Black and brown accents trim the interior.
An available Uconnect 6.5 system includes a 6.5-inch display screen, readback of text messages, and an SD card slot. Also included is dealer-programmable navigation, but it's an elementary system, with maps that take time to change scale. The regular Uconnect system uses a 5-inch screen.