2017 Fiat 500L Introduction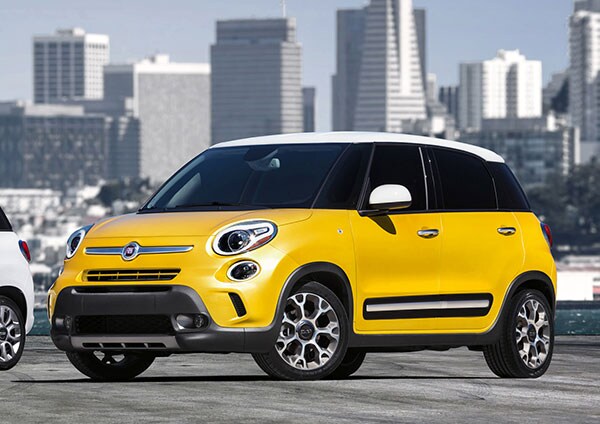 Essentially a tall wagon, the Fiat 500L debuted as a 2014 model. Despite the similarity in model names, the 500L is a far different sort of vehicle, both beneath the surface and in appearance, than the retro-look Fiat 500 coupe that captivated small-car fans.
Trim levels have been simplified for the 2017 model year, shrinking to the 2017 Fiat 500L Pop, the outdoors-oriented 500L Trekking, and the upper-level 500L Lounge edition. A 6-speed automatic is now the sole transmission for 2017 Fiat 500L models, because the manual gearbox is no longer available. Each 2017 500L trim level gains some standard features.
Little more than the engine is shared with the tiny Fiat 500: a turbocharged 1.4-liter four-cylinder that develops 160 horsepower and 184 pound-feet of torque. In the bigger 500L, that powertrain strains to perform. All Fiat 500L models have front-wheel drive. All-wheel drive is offered only on the 500X crossover.
Partly because of its design, which some critics call quirky but others deem awkward, the 500L hasn't captured much attention. Compared to other small, relatively spacious vehicles, such as the Honda Fit and Kia Soul, and especially the enticing micro-sized Fiat 500, the 500L is just about devoid of charm and character. Little evidence of Fiat's Italian heritage can be discerned.
Its driving characteristics are not compelling, either, apart from a satisfying ride. Gas mileage is average, at best.
When it first appeared, the 500L earned Good scores and a Top Safety Pick award from the Insurance Institute for Highway Safety. That designation faded away after the 500L suffered a Poor score on the more rigorous IIHS small-overlap frontal crash test. The National Highway Traffic Safety Administration hasn't crash-tested the 500L at all.
At least outward visibility is excellent, which is good news since a rearview camera is optional (including rear parking sensors) rather than standard. On sunny days, the optional dual-pane sunroof fills the cabin with light.
Fiat offers numerous customization possibilities, including a selection of wheels and a contrasting-color roof treatment. Each trim level can be fitted with any of several available Collections, which group options such as navigation, parking sensors, rearview camera, sunroof, and satellite radio, priced with a modest discount. A BeatsAudio system also is available. An Urbana Appearance Package for Trekking trim features black wheels and accents.