2017 Fiat 500L Driving Impressions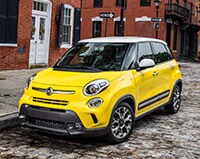 The 500L handles competently and holds the road effectively, a trait expected in an Italian vehicle. Models sold in the U.S. are equipped with Koni shock absorbers, which restrain some of the harshness produced by inadequately maintained roads. When rolling through urban pavements, the suspension irons out bumps, potholes and rough spots almost as effectively as that of a Kia Soul, and better than a Mini Countryman.
A lack of engine power is a drawback, with performance that ranks as average, but no higher. On the highway, however, the 500L responds well, helped by satisfying stability and nicely fluid steering.
Gas mileage falls around average, EPA-rated at 22/30 mpg City/Highway, or 25 mpg Combined, using premium-grade gasoline.