2017 Fiat 124 Introduction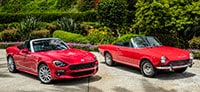 The proportions are classic and so is the name, which conjures up memories of the sweet little roadster that graced Fiat showrooms from 1966 to 1982, and later reappeared as the Pininfarina Spider from 1983 to 1985.
Although the 2017 Fiat 124 owes as much to Japan as it does to Italy, it's true to the spirit of the original, a two-seater with equal measures of style and sports car purity. Make that affordable sports car purity.
The Japanese part of the story comes from Mazda, the engineering source for the Fiat 124's chassis, which is shared with the MX-5 Miata. The cooperative engineering makes all kinds of financial sense for Fiat, which was saved the expense of developing its own sports car architecture from scratch.
From the point of view of the finished product, this is a very good thing. The Miata has been exemplary in terms of structure through its first three generations, and the latest chassis is not only far more rigid, it's also substantially lighter. Underway, the handling is beautifully balanced. Thus Fiat engineers were able to skip directly to suspension tuning.
The shared engineering has led some to adopt an invidious nickname for the new roadster—Fiata—but this is too glib by half. Although the platform, convertible top, and some interior elements are shared with the Miata, the sheetmetal is all Fiat, and the turbocharged 1.4-liter engine comes from the Fiat Chrysler Automobiles (FCA) inventory.
Mazda Miata and Fiat 124 Spider share the same 90.9-inch wheelbase, but the Fiat is 5.5 inches longer overall than the Mazda, and fractionally wider. That shows at the scales, adding about 100 pounds to the Fiat version. A little of the added weight can be attributed to sound deadening and the Fiat's turbocharged engine, but most of it can be written down to style.
The Miata's skin fits like Spandex, while the Fiat's exhibits character lines on the side panels, a higher decklid (sheltering a slightly bigger trunk), a longer hood, with a hexagonal upper grille reminiscent of the original 124.
It adds up to a striking Italianate design, with no exterior resemblance to the Miata. Add competitive dynamics and surprisingly attractive pricing and you have a very tempting sports car proposition.