2017 Chevrolet Sonic Walk Around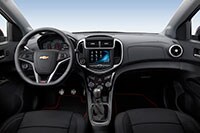 The 2017 Sonic styling changes keep it in line with other global Chevrolets such as the Cruze, Bolt EV, Trax, even the Malibu.
The design is a pleasant balance, neither bold nor boxy and bland. Conservative but handsome. Alloy wheels are standard, even on the base LS. Thank you Chevrolet, for not saving money with plastic hubcaps over steel wheels.
The new hood flows neatly back from the projector-beam headlamps that meet the grille in a contiguous horizontal line that includes the LED DRLs (light-emitting diode daytime running lights). New front and rear airdams complement the change, while the rear bodywork is now chiseled.
Interior
The Sonic's front seats are quite good, able to adjust to large and small drivers, but the back seats are tight and subcompact all the way, especially in headroom, and definitely with three squeezed in.
The rear seatbacks flip forward to make more cargo space, in both the hatchback and sedan, but the load floor isn't low like some competitors, and it doesn't offer anything near like the Honda Fit's Magic Seat, a front passenger seat that drops level to make room for long sporting equipment or building materials. That makes the Sonic a bit less attractive for dog owners or cargo haulers.
The Sonic tries to make up for it in storage area. In front there are trays, bins, and cubbies to hold your small stuff. The hatchback boasts 19 cubic feet of cargo capacity, a lot for a subcompact, with a compartment under the floor that can hide a laptop. Meanwhile the sedan has a 14.9-cubic-foot trunk, big as that of the Nissan Versa.
In some places the interior packaging is inferior to competitors, despite some upscale materials. It shows its family design age, in particular the dash with wraparound console that curves into a V-shaped centerstack. The new available infotainment system with seven-inch screen updates it. And there are some nice touches that you don't generally find on subcompacts, such as chrome trim rings and different grains in materials. Overall, it feels upscale for a subcompact, with one of the quietest cabins in the class. The LT is the quietest. If tire noise matters a lot to you, avoid the 17-inch wheel-and-tire upgrade, as on the RS model.
GM says the instrument cluster is inspired by motorcycle gauges, but the tachometer has a digital speedo with icons, graphs and lights, not exactly what you find on a bike.