2017 Chevrolet Sonic Driving Impressions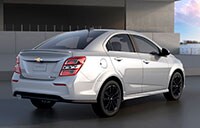 The Sonic feels strong and sturdy, with a ride that's smoother and quieter than that of most subcompacts. It's enjoyable to drive, thanks to a well-tuned suspension and electric power steering that has a nicer feel and weight than its Asian rivals. Sonic feels settled, more like a larger compact car. The Sonic RS hatchback tightens the suspension up a bit more. The package is available as an option on the sedan.
On the turbo, there's a bit of throttle lag. But the 6-speed manual transmission makes it way fun anyhow. The gearbox is precise and direct, with nice short throws. The clutch is smooth and foolproof.
Unfortunately, the brake pedal is mushy, like every Sonic we've ever driven. The stopping distances are fine, but the feel is soft.
The 6-speed automatic transmission is good too. The 1.4-liter turbo doesn't get paddle shifters, but there are shifting buttons on the lever to manually shift the transmission. It shifts in the right places when left in Drive, with the turbo; but with the base 1.8, the transmission goes hunting for gears, up and down. Another reason to avoid that engine.