2017 Chevrolet Silverado Driving Impressions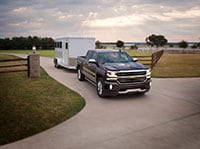 The Chevy Silverado feels like the smoothest and most carlike of the full-size pickups. Responsive handling makes it enjoyable to drive. All models come with four-wheel antilock discs and electric steering.
The 4.3-liter V6 runs smoothly, with no trouble merging or tackling steep grades. It's rated 285 hp and 305 foot-pounds of torque. It works fine for light duty at sea level.
The 5.3-liter V8 accelerates quickly, with 355 hp and 383 foot-pounds of torque, and eight-speed automatic. Maximum towing capacity with the 5.3-liter V8 is 11,500 pounds. (Above 9,000, however, we'd be more comfortable in a Silverado 2500.)
The 6.2-liter V8 boasts 420 hp with and 460 foot-pounds of torque. A Silverado High Country with the 6.2-liter is rated to tow up to 12,000 pounds.
Cylinder deactivation is used by all three engines: Only four cylinders are fired when gliding along for better fuel efficiency. All three engines are lightweight all-aluminum, with continuously variable valve timing and direct fuel injection.
The transmissions, 6-speed and 8-speed, operate smoothly. Fuel efficiency is not improved with the 8-speed, but in theory it is more flexible in different driving situations.