2017 Chevrolet Corvette Introduction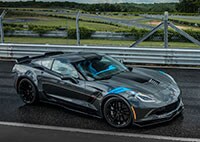 The Corvette has been around for seven generations. In human terms, that means the 2017 Corvette C7 has a great-great-great-great grandfather. Although it must be said that car generations are more like dog years. Some teenagers today have just-plain grandfathers who owned a new 1953 Corvette. So it's truly come a long way in a relatively short time.
Truly a long way, styling-wise. The C7 is a wild, extroverted scoop addict, far removed from the sleek C6 that it recently replaced. Teenagers love it. We can attest to that, with all the thumbs-up we got while driving our test model.
Needless to say, the Corvette offers astonishing acceleration, amazing grip, quick reflexes, and absolute communication through the seat and steering wheel.
The base engine, if you can call it base, is a 6.2-liter LT1 V8 making 455 horsepower and 460 pound-feet of torque. The Z06 uses a supercharged LT4 V8 with that same 6.2 liters, making 650 hp and 650 lb-ft. A 7-speed manual gearbox is standard, with automatic rev-matching downshifts. The optional transmission is a GM-built paddle-shifting 8-speed automatic.
If the acceleration of the Stingray bulges your eyeballs, the power of the Z06 will pop them out. The Stingray will blast from zero to 60 in 3.7 seconds with the automatic, and do the quarter-mile in 11.9 seconds. The Z06 gets to 60 mph in an almost unbelievable 2.95 seconds.
For 2017, there's a new Grand Sport model that uses the naturally aspirated Stingray powertrain with the supercharged Z06 suspension and handling geometry. It could do track days like that, but to make it and the Z06 even sharper, there's a Z07 handling package that also includes carbon-ceramic brakes. The Grand Sport makes 5 more horsepower than the Stingray, and is a couple tenths quicker in the quarter mile.
Except for the Grand Sport, the 2017 Corvette is relatively unchanged.
Despite a tall final-drive ratio and cylinder de-activation technology, which cuts the spark when the car is cruising and all eight cylinders aren't needed, the Corvette doesn't get great mileage, but really, who cares? The EPA rates it 15/26/19 miles per gallon City/Highway/Combined. If you notice that's a drop from a couple years ago, it's only because the EPA has newer standards.
The supercharged Z06 gets 13/23/16 mpg with the automatic, or 15/22/18 mpg with the 7-speed manual.
Neither the NHTSA nor the IIHS have crash-tested the C7 Corvette, but its rigid structure, many airbags, and stability control inspire confidence. The best way to stay safe in a Corvette is don't lose your judgment.