2017 Chevrolet Bolt Walk Around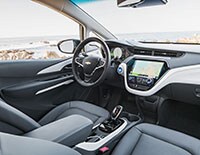 The Bolt has family resemblance to other small Chevrolets, an upright hatchback with a short nose, racy lines, sharp creases, rising windows, and wheels pushed out to the corners. This shape makes it look smaller than it is. There's a plate in front where a grille would otherwise be, because there's no gas-burning engine needing air for cooling.
Interior
Electricity aside, the Bolt's standout quality is its cabin space. Its 94.4 cubic feet of interior volume just edges out the much larger and more expensive Tesla Model S, although the electric Nissan Leaf is nearly as good, with 92.4 cubic feet.
The cabin is light and airy, and fits four adults in comfortable seats; with five, it's pushing the comfort level. Everyone, including the driver, sits high and upright, a position unlike that in the rakish Chevy Volt midsize electric/gas sedan. The front seats are thin, but there's a lot of legroom thanks to the flat floor and slim dash and console. And the short nose allows superb visibility for the driver, especially useful for parking in tight spaces.
The interior is attractive enough, despite some economy-grade hard plastic. There's a digital instrument cluster behind the steering wheel, and 10.2-inch color touchscreen fixed on the center stack. The thin fonts on white background look sophisticated, and more importantly are easy to read.
One unique high-tech feature is GM's new digital rearview mirror, which uses a rear-facing camera to give a wide 80-degree image in a digital display that replaces the mirror glass. Compare that to the 22 degrees of a rearview mirror, usually blocked by rear headrests, roof pillars, wiper, and window frame. The image is crisp, although there can be glare.
The rear seat folds flat to create a deep cargo bay with a storage compartment under its floor that slides out for easier loading. It can fit into a slot in the seatback to gain several inches of height in the cargo bay.
It's quiet inside. Well duh, it's an electric car. We heard only occasional motor or electronics whine.