2017 Chevrolet Bolt Introduction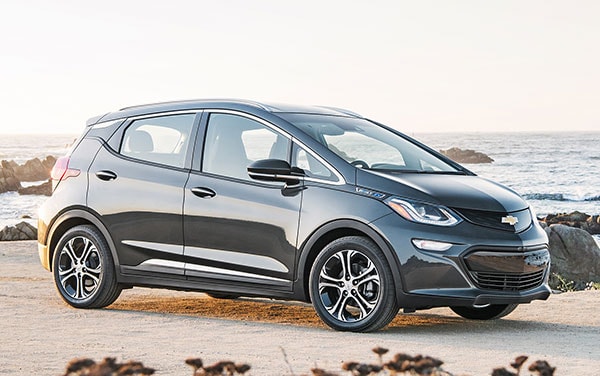 The 2017 Chevrolet Bolt EV is the first mass-market electric car to surpass 200 miles of range, something that otherwise only a $70,000 Tesla can achieve.
Bolt boasts a range of 238 miles between charges. Bolt is a pure electric vehicle; there's no range-extender engine like on the Volt. The Bolt is a tall compact five-door hatchback with the passenger space of a midsize car, thanks to pushing the wheels out to the corners. These virtues, along with a price that makes the cost-per-mile numbers work for commuter travel, make it potentially the first mainstream EV.
We spent six hours behind the wheel of a pre-production Bolt EV, logging 240 miles along California coastal roads and freeways at varying speeds and elevations. Our drive depleted the battery, but other automotive journalists on the same route tried harder, and arrived with as much as 25 miles left. So the EPA-rated 238-mile range is not only real, but can be increased with careful attention to efficient driving.
After its introduction as a concept car at the 2015 North American International Auto Show, the Bolt EV was developed in record time by a close partnership between General Motors and the Korean battery maker LG Chem, which designed the battery pack, some powertrain components, and the digital dashboard displays. The battery pack, electric motor and drive unit are manufactured in Korea, but the Bolt is built in Michigan.
The EPA classifies the Bolt as a small wagon, which we might go along with, but Chevrolet calls it a crossover, which we're not buying because there's no all-wheel drive nor higher ground clearance. We call it a tall compact wagon.
It's built on dedicated architecture for electric cars, although some suspension components and accessories are shared with other GM vehicles. It handles well.
Bolt's powerplant is a simple design. A big flat 60-kilowatt hour lithium-ion battery pack sits under the floor and powers an electric motor that drives the front wheels. That motor is rated 150 kilowatts (200 horsepower), and can squirt the Bolt to sixty miles per hour in less than seven seconds. With that kind of acceleration you'll never get in anyone's way in the city. In fact, big bulky gas burners will be in your way. You will feel all superior, and be shouting, "Get those dinosaurs out of my way!"
There are two distinct drive modes. In the normal Drive mode, selected on a lever like a transmission lever but not, the car behaves like it has an automatic transmission; but in the Low mode, the regenerative braking is much stronger, and will actually stop the car without the brakes being applied. It extends the range, but it takes some getting used to, to be appreciated.
The Bolt EV's onboard charger operates at up to 7.2 kilowatts. A 120-volt charging cord is stored under the rear cargo area. Chevrolet believes that most Bolt buyers will install a 240-volt outlet in their garage (it might already be in the laundry room), so they will be able to charge the battery pack using a 240-volt Level 2 charging station. GM says that with Level 2, it takes less than two hours to get 50 miles of charge; so that would be overnight for a full charge of 200-plus miles. The Bolt also offers an available 50-watt DC fast-charging port, which GM says will give you 90 miles of range in 30 minutes of charging. It costs $750, and uses the Combined Charging System (CCS) protocol adopted by all U.S. and German makers except Tesla. It makes the Bolt EV do-able for road trips.
Unlike BMW, Nissan and Volkswagen, GM doesn't plan to finance the building of fast-charge infrastructure across the country. That's also unlike Tesla, with its nationwide network of Supercharger sites.
The Bolt is rated by the EPA at 119 MPGe. Miles Per Gallon Equivalent, or MPGe, measures the distance a car can travel electrically on the amount of energy in a gallon of gasoline. The Bolt's score is beaten only by one model of the BMW i3.
Neither the NHTSA nor IIHS have crash-tested the Bolt, but Chevy engineers told us they're confident the Bolt will earn the top scores. The lack of an engine and transmission up front required some innovative crash engineering in the stubby nose, they said, but they worked on it long and hard and are sure they got it.
Crash forces are absorbed and diverted around the passenger compartment by a lower cradle holding the traction motor and driveline, plus an upper cradle that contains the power electronics. Each is attached at four points. GM engineers went through many designs to find the one that delivered their own best crash scores; that's why they're confident that the Bolt will ace the government and insurance industry tests.
The Bolt is the first car on the market to use the new Michelin self-sealing tire; if it picks up a nail it fixes itself, and you never know it. So there's no spare tire in the Bolt, or even an inflation can, because it's not necessary.