2017 BMW i8 Introduction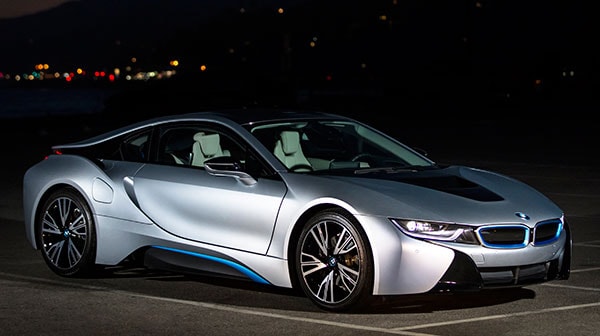 The BMW i8, now in its fourth year, is a unique plug-in hybrid coupe with a stunning design, advanced structure and technical wizardry. The engine has just three cylinders. The body with its bird-wing doors is plastic reinforced with carbon fiber. The chassis is aluminum, designed to absorb crash energy.
There is a two-part powertrain; the front wheels are driven by an electric motor whose energy comes from a liquid-cooled lithium-ion battery pack with a capacity of about 5 kilowatt-hours; it's relatively small, and located in the tunnel between the seats. The rear wheels are driven by a turbocharged three-cylinder engine that's approximately mid-mounted.
For short drives, the i8 is quiet, calm, smooth, an electric car that can keep up with traffic. On longer trips it's a seamless hybrid that delivers good fuel efficiency. On winding roads, it behaves like a sports car.
The BMW i8 features the world's first laser headlights, an option over the standard LEDs. They are amazing, making night as close to day as we've ever seen.
The BMW i8 can run on just battery power up to 75 miles per hour (but not for very far), or with both battery and engine for more speed. A vehicle with such propulsion is called a through-the-road hybrid; the drive is coordinated via software but not mechanically connected.
The 1.5-liter engine is also used, in another version, in the Mini. It makes a healthy 228 horsepower and 236 pound-feet of torque, and is mated to a 6-speed automatic transmission. The front motor is rated at 96 kilowatts (131 hp) and 184 pound-feet of torque, mated to a 2-speed automatic.
The i8's all-electric range is EPA-rated at just 15 miles, among the lowest for plug-in hybrids, although there is a Max E-Mode setting that gives up to 22 miles. There's also a high-performance Sport mode, for those times when you don't give a rip about range. In that mode it's louder and quite faster, and in fact feels like a sports car. Between those extremes, there's Comfort (the default mode) and EcoPro, which combines modes to give the maximum efficiency with performance compromises.
In Comfort mode, which runs as close to a basic hybrid as it gets, the BMW i8 is EPA-rated at 28 miles per gallon. As an electric vehicle, it's rated at 76 MPGe. MPGe, or miles per gallon equivalent, measures the distance a car can travel on the amount of energy contained in one gallon of gasoline.
Neither the NHTSA nor IIHS have or will crash-test the i8 because of its low sales volume, but BMW says it has done thousands of simulated tests and dozens of actual crash tests, to ensure that occupants are safe. There are six airbags, including front, side, and curtain.
For 2017, BMW i8 offers the addition of a vivid color, Protonic Red, to provide a more outgoing choice to the existing white, gray and black. Otherwise, it's unchanged for 2017.