2017 BMW X3 Driving Impressions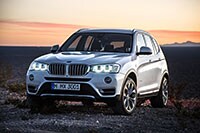 Powertrains are among the main attractions of an X3. Developing 240 horsepower and 260 pound-feet of torque, the base turbo four-cylinder engine performs capably, whether equipped with rear-drive or xDrive. Pushing the pedal to the floor, the direct-injected four-cylinder X3 displays abundant energy, without hesitating, as the turbocharger spins promptly into action. A bit on the coarse side, the four-cylinder can be heard while idling.
Able to hit 60 mph in 5.3 seconds, the six-cylinder xDrive35i takes off without the squatting sensation that's typical of tall vehicles. In short, it moves out with the authority that's expected from a 3 Series BMW.
Ride quality ranks as relatively firm, with the standard run-flat 18-inch tires. Larger (19-inch) rubber is available. Visibility is generally good.
Optional adjustable dampers can subdue harsh vibrations, softening the ride, but rougher pavement surfaces can induce an X3 to crash ahead rather than roll peacefully through bad spots. Road and wind noises basically remain outside the vehicle. Optional Variable Sports Steering provides a relaxed on-center feel, but eases maneuverability at lower speeds.
Driving Dynamics Control, with Normal, Sport and Sport+ modes, can adjust the dampers, throttle, transmission, and steering feel. Like any BMW, the X3 seems happiest in Sport mode, which quickens steering responses while producing a tauter ride.
An X3 can handle mild off-roading, but on-pavement performance is its forte. Because you sit tall, agility and lack of excessive body motions come as something of a surprise.
Fuel economy ranks close to the competition. Whether it has rear-drive or all-wheel drive, the four-cylinder X3 is EPA-rated at 21/28 mpg City/Highway, or 24 mpg Combined. The six-cylinder xDrive35i lowers EPA ratings to 19/26 mpg City/Highway, or 21 mpg Combined. All models have stop/start technology, but the system operates quite roughly.