2017 BMW M4 Walk Around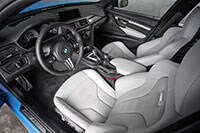 The BMW M4 has 4 Series proportions, exaggerated a bit. There's a power bulge on the hood to accommodate the twin-scroll turbo, flares on fat fenders wrapping around bigger wheels, and aerodynamic tweaks on the noses, sides, and back end.
The hood and fenders are aluminum, while the roof and trunk lid are carbon fiber.
Interior
The M4 interior is like a 4 Series, with a few M touches: beautifully tailored sport seats, M controls, carbon-fiber trim, and M badges.
There isn't much room in the rear. The coupe has a decent trunk, as does the convertible when the top is up. Top down the cargo capacity drops from 13.0 to 7.8 cubic feet.
A rearview camera isn't standard in this $70,000 car. Shocking. If you want one, it'll cost $3500 in the Executive Package, as if only executives merit the safety of a rearview camera. That package includes head-up display, heated steering wheel, and parking assistant.
As for cabin noise, that distinctive screaming inline-six sound, classicBMW, is lost to the droning of artificial engine noise piped into the cabin.