2017 BMW M4 Introduction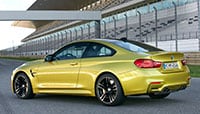 The stylish BMW M4 is the two-door version of the M3 sedan and is based on the BMW 4 Series. It's a grand tourer, not a sports car. There's also an M4 convertible. It's drop-dead gorgeous, but still not a sports car.
The BMW M4 uses a twin-turbocharged 3.0-liter inline six-cylinder engine that makes 425 horsepower and 406 pound-feet of torque. It's the engine from the previous generation of M3, heavily improved, although the exhaust note is disappointing. It can accelerate from zero to sixty in 3.9 seconds, with the available 7-speed dual clutch automatic manual transmission, or 4.1 seconds with the standard 6-speed manual. Top speed is electronically limited to 155 miles per hour.
The convertible adds 525 pounds to the weight and about $8200 to the price, but magically makes your car topless in 20 seconds, and comes with a wind blocker and neck warmer. It's a nice ride.
The 2017 BMW M4 makes the Adaptive M suspension standard equipment. Adaptive M has three dynamic modes (Comfort, Sport and Sport+) that electronically adjust the damper stiffness and steering resistance.
The 2017 M4 offers a new Competition Package that increases horsepower to 444 and shaves a tenth off the 0-60 time.
With the DCT transmission, the 2017 M4 coupe or convertible gets 17/24 mpg City/Highway, 19 miles per gallon Combined. Both the Corvette and Porsche 911 get better fuel mileage than the M4, but no one said the M4 is a sports car.
The M4 hasn't been crash tested. Closest thing is the BMW 3 Series, which scored okay but only got Marginal on the IIHS small overlap test.