2017 BMW M4 Driving Impressions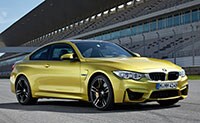 With the same competent chassis, the M4 is nearly identical to the M3 in performance and handling. It loves to run off toward the horizon. The handling is neutral even with radical steering inputs, although there's lack of communication when it's drilled in tight corners. But get the M4 on a big wide sweeper, and the steering works very well.
It can be intoxicating behind the wheel of the M4, but it can also be unforgiving, when you are pushing it to the extreme. Point the nose and nail the throttle, and if you catch the rear end with the right timing, you're a hero. If you miss it, the M4 won't forgive you. In this situation, we want an M2.
The available carbon brakes stop so quickly (when they're warmed up) your head might snap. The driveshaft is carbon fiber, to save weight and reduce the loss of horsepower between the engine and the rear wheels.
The throttle and transmission response in Sport+ mode are quick, too quick for around-town driving.
Most of the time we prefer manual transmissions, for the fun of it, but the best transmission for the M4 is the 7-speed DCT dual clutch manual automatic, with a launch program.