2017 BMW M2 Driving Impressions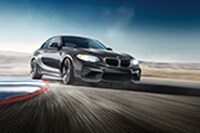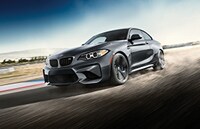 The M2 brings the sensation back to the driver, having been lost in more uppity M cars. The driver settings are simple, for one thing. The Sport+ mode doesn't feel artificial like it does in the M4, while sharpening the response of the transmission and steering, and backing off the stability control system.
The M2 is at its best driven hard, with precise body control, well-weighted steering, and powerful brakes. The engine sounds great, especially at redline 7000 rpm, thanks to an exhaust-flap system and piped-in induction noise.
The 7-speed dual-dual clutch automatic manual transmission does seamless shifts in the blink of an eye, with or without the steering-wheel paddles.
The 6-speed manual gearbox shifts nicely with tight linkage (it shifts like the M3 used to shift) and great clutch coordination. It also has rev-matching that turns off with the stability control. The 6-speed gearbox has its own oil cooler.
The ride takes hard impacts at the wheels in stride, but it can feel jittery on bumpy pavement. The firm suspension allows the correct amount of weight transfer in the corners, without using adaptive dampers. The Active M Differential controls torque to each rear wheel, to help make cornering nimble. By providing the optimum torque in corners, this system keeps the driver engaged (feeling it in the seat of his or her pants), compared to an electronic system that uses the ABS to control wheelspin.