2017 BMW 6 Series Walk Around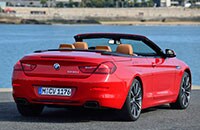 The 6 Series is understated yet evocative. The lines at its forward edge are finely rendered, as they feed into the arching roofline: confident, low slung and wide shouldered. The stance is athletic. The curves are elegant in profile. The hoodline is taut, flanks muscular, and rear end sleek, simple, and modestly tucked. The new-for-2016 nose creases tightly into the nine-slat kidney grille, flanked by bold headlamps and big air intakes.
Its curves and flared fenders lower the window line, at least to the eye. The big 18-inch alloy wheels fill the wheelwells, becoming design details on the coupe and Gran Coupe.
Interior
There's a business-like starkness to the cabin, with muted shades that look rich. It borders on the exotic, with an array of materials, textures and colors. It's well appointed, but ruled by order and restraint, both low-key and high-tech. The plastics and leather present a premium visual and tactile sensation, even before you bring out the best materials like white leather or fine woods.
If you want your cabin bright, there are trim packages that can make it nearly as plush as a 7 Series.
The Gran Coupe might have a wheelbase that's 4.5 inches longer, but, like the two-door coupe, it's more suited for two people. There's room to stretch up front, but, in the coupe, the rear seat isn't much more functional than with a Porsche 911. In the Gran Coupe there's more rear legroom, although if you carry rear passengers often, you need to go with the 5 Series or 7 Series. And headroom is low because of the sloping sensuous roofline. Taller passengers will have to duck to climb in and out.
The powered front buckets adjust in a myriad of ways, so comfort is easy to find. The M Sport package offers multi-function sport seats with more support in the backrest and thighs.
The convertible's folding fabric top stows tightly and raises and lowers quickly, in 20 seconds at 25 mph. The glass rear window can even be opened, like in the old convertible days.