2017 BMW 6 Series Driving Impressions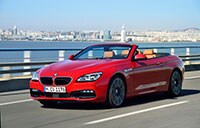 The 6 Series is quick and sporty. The BMW 640i turbo six-cylinder performs competently in its class. Its 8-speed automatic transmission gets the most from its 315 horsepower and 330 pound-feet of torque. The engine gets most of its torque down low, at about 1700 rpm, and overcomes any doubt that the 3.0-liter engine might be breathless under acceleration. Actually, if it feels breathless, it's at the top end.
The BMW 650i is quicker and sportier. The twin-turbocharged 4.4-liter V8's 445 horsepower is impressive, but it's the 480 pound-feet of torque that makes us swoon. You might say that the 650i has a confident gas pedal. The turbochargers are seamless from 2000 rpm all the way up to 7000 rpm redline. The 650i's linear power and symphonic bellow make winding roads enjoyable.
The 650i already weighs 264 pounds more than the 640i, so adding another 100 pounds for all-wheel drive might not be the best thing. We're inclined to suggest that if you need all-wheel drive, go for the 640i, because it's lighter and should be more nimble.
By most measurements now, the 6-Series is the Bavarian grand tourer, not a razor sharp sports car, or brawny muscle machine, and having plenty of passing power is part of the program.
The 6 Series handles with confidence, with steering sharp as a knife but not sharp as a razor. The ride is so smooth that it begs for effortless high speeds. The suspension is tuned for comfort, not track days. However with Driving Dynamics Control there are Comfort, Sport, and Sport+ modes to set suspension, steering, throttle and transmission response. The range of adjustments is almost astonishing, changing the 6 Series from cruiser to canyon carver.