2017 BMW 5 Series Introduction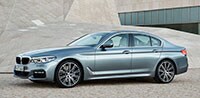 The 2017 BMW 5 Series is built on a new platform, with more aluminum and high-strength steel in the chassis, to make it lighter and stiffer.
It's 1.2 inches longer than before, all of which makes its way to rear legroom. For now there are just the sedans, the 530i and 540i, but they will soon be joined by a plug-in hybrid 530e, and a powerful M550 xDrive.
There are two new engines, turbocharged inline four and six cylinders, 2.0 and 3.0 liters. The 248-horsepower four in the 530i is refined and rarely feels pressed; it can accelerate from zero to sixty in about six seconds, about the same as the Mercedes E-Class and Volvo S90. The turbo six delivers 335 horsepower and can shoot the 540i from zero to sixty in less than five seconds.
There's one transmission, an excellent eight-speed automatic. BMW's xDrive all-wheel drive is available with both models.
The revised suspension, especially the available adaptive dampers, turn the car into an athlete. Even the standard run-flat tires don't stiffen the ride too much.
It hasn't been crash-tested and probably won't be, because of the price. Its active safety systems, adaptive cruise control, active lane control, and self-steering, work well, but cost about five grand. It will steer itself down the highway for 30 seconds. It will also veer and correct itself, when the sensors misjudge something. It's a problem with most cars that steer themselves.
The 530i is EPA-rated at 24/34 mpg City/Highway, or 27 mpg Combined, on Premium gasoline. 530i xDrive is 23/33/27 mpg City/Highway/Combined. The 530i is 120 pounds lighter than previously, and its engine is more efficient, with its direct fuel injection.
Same goes for the six in the 540i, rated 20/30/24 mpg.
The 530e iPerformance model goes on sale in April, designated a 2018 model. It will be the first plug-in hybrid 5 Series, using a 9.2-kwh battery pack with a turbocharged four-cylinder engine.