2017 BMW 4 Series Introduction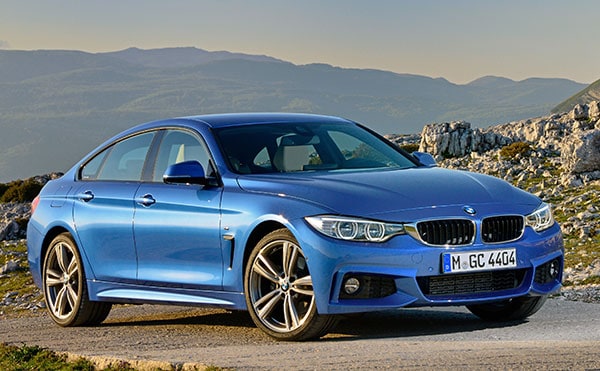 The BMW 4 Series is built on the platform of the 3 Series, and is the same size. The 2017 BMW 4 Series comes in two-door Coupe, hardtop Convertible, and five-door Gran Coupe versions, while the 3 is a sedan or wagon. Rear-wheel drive and all-wheel drive are offered, even on the Convertible.
There are two new engines, resulting in the 2017 BMW 430i from the previous 428i, and the 2017 BMW 440i from the previous 435i.
The four- and inline six-cylinder turbocharged engines are both new for 2017. The BMW 430i with the 2.0-liter inline-4 makes 258 pound-feet of torque, while the BMW 440i with the 3.0-liter turbocharged inline-6 makes a healthy 320 horsepower with an emphatic 330 pound-feet of torque.
All models offer a flawless eight-speed automatic, though an engaging six-speed manual transmission is also available for the Coupe.
BMW created the 4 Series out of the 3 Series, but lost that old BMW magic in the process. We find the value in the 4 Series questionable, and its appearance frumpy compared to the Mercedes C-Class. The Gran Coupe seems to combine the best of the 3 and 4, which makes it the best of the 4 Series models. The 4 Series Gran Coupe has more room inside, with a sleek profile outside.
The 2017 BMW 430i coupe with the eight-speed automatic gets 23 miles per gallon City, 34 mpg Highway, and 27 mpg Combined. On the far side, the BMW 440i xDrive convertible gets an EPA-estimated 20/30/24 mpg.