2017 BMW 3 Series Introduction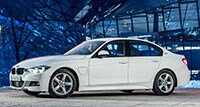 Launched during the 2011 model year, the BMW 3 Series is getting long in the tooth. The current, sixth-generation models are older than their classic rivals, the Audi A4 and Mercedes C-Class. The 3 Series has expanded along the way: The 2017 BMW 3 Series comes in three bodies, six engines, two transmissions, with rear-wheel drive or awd. Performance in some configurations is standout.
The models are 320i, 320i xDrive, 328d, 328d xDrive, 330i, 330i xDrive, 340i, 340i xDrive sedan; also the 330e iPerformance plug-in hybrid sedan, 330i xDrive Gran Turismo, 340i xDrive Gran Turismo, 330i and 328d xDrive wagon, and the almighty M3 that gets its own review.
Engines include the 328d diesel, 2.0-liter turbo four and 3.0-liter turbo six, from high mileage to everyday to scorching performance from the 340i with its 320 horsepower and 330 pound-feet of torque. All the engines need premium (or diesel) fuel, even the lowly 180-horsepower engine in the 320i. The turbocharged four-cylinder in the 330i gets 248 horsepower, an increase for 2017.
In addition to so many models, the 3 Series comes in different trims, resulting in some startling configurations. It's difficult to speak generically about the 3 Series, because the distinctive models are many. The Sport Line, optional last year, is now standard on the 328i, 328d, and 340i. There's also an M Sport package, and for 2017 there's a Track Handling package with big blue brake calipers.
The Gran Turismo is a five-door hatchback that's nearly eight inches longer than the sedan, on four inches longer wheelbase, and three inches taller. Forget what we said about old design, Gran Turismo leads the styling way, as part crossover, part fastback, and part wagon.