2017 BMW 2 Series Introduction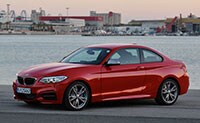 The BMW 2 Series brings the two-door lineage of the iconic sporty 2002, and is more thrilling to drive than the 3 Series.
The BMW 230i comes with a four-cylinder turbo, the BMW M240i with a turbo six. Both engines are new, with more power and lower emissions than previously.
Each is available as a coupe or convertible.
The 230i uses a 2.0-liter making 248 horsepower, the M240i a 3.0-liter making 330 horsepower; each comes with either an eight-speed automatic or six-speed manual transmission.
There's an xDrive all-wheel drive available with either engine, with the automatic transmission only.
The standard 230i coupe with rear-wheel drive is not well-equipped, with fabric seats with manual adjustment, and no backup camera. Options can add more than $9,000.
The 230i gets a government-rated 24 miles per gallon City, 35 Highway, or 28 Combined, with rear-wheel drive and automatic. The M240i xDrive gets 21/31/25 mpg, not too bad for 330 horsepower and four-wheel drive.
The 2 Series aces the IIHS tests.
The M2 is a performance model, using its own engine (and reviewed separately).