2017 Audi TT Introduction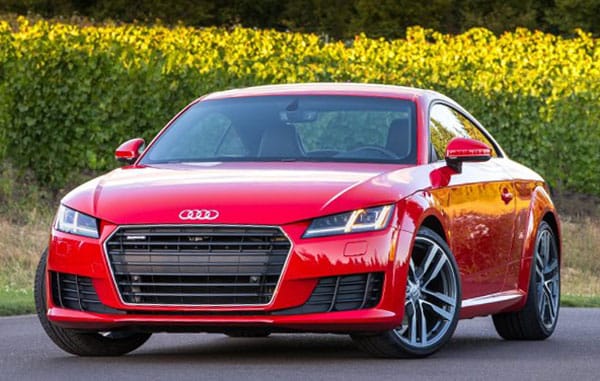 The 2017 Audi TT, in the second year of its third generation, is a sophisticated all-wheel-drive sports car with the right stance, styling and handling that's quick and nimble when it needs to be, and relaxed at the right time.
Audi TT is powered by a 2.0-liter turbocharged four-cylinder engine with direct injection, making 220 horsepower and 258 pound-feet of torque, mated to a 6-speed S-tronic dual-clutch transmission; Audi basically invented the dual-clutch, and it's the best. The manual gearbox went away with the 2016 redesign.
The TT is called a four-seater, but it's more like a 2+2 Coupe, or a two-seater with small shelf in back, for the Roadster.
There's also an Audi TTS model, making 292 horsepower and 280 pound-feet of torque, thanks to more turbocharger boost. The TT will accelerate from zero to sixty in 5.3 seconds while the TTS does it in 4.6. The TTS also gets a magnetic suspension, bigger brakes and cooler wheels. Later in 2016 there's an even faster model coming, the TT RS, using a five-cylinder turbo engine.
The quattro all-wheel drive is the Haldex clutch-pack system that's front-wheel-drive based, and responds to not only acceleration and traction but also steering inputs from the new variable ratio rack. The TT also has Audi Drive Select, with modes that allow the drive to select the level of response from the throttle, transmission, steering and stability control.
The government and insurance industry haven't crash-tested the Audi TT, but for the 2016 redesign Audi developed a new body structure with a low center of mass, using high-strength steel in the floor and firewall to supplement the aluminum that saves weight.
A rearview camera is standard. Active safety features are available, including the system that's intended to keep the car in the absolute center of its lane; we find some of these lane-keeping assist features bothersome.
The TT gets an EPA-rated 23/30 mpg City/Highway, or 26 mpg Combined. The TTS gets one mile per gallon less.