2017 Audi Q7 Introduction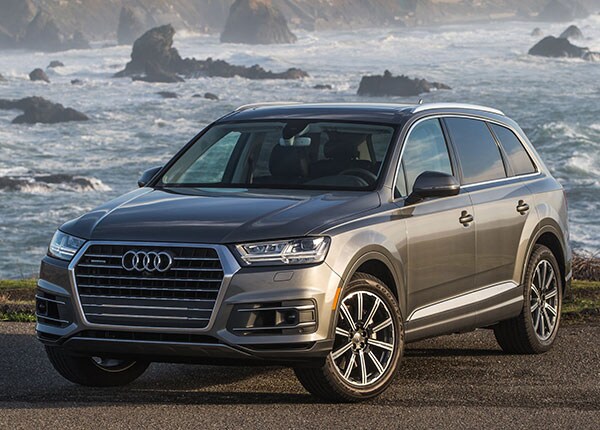 The all-new 2017 Audi Q7 marks the second generation of this full-sized all-wheel-drive crossover, a derivative of the trendsetting Volvo XC90 for its tall sportwagon design.
With its sophisticated suspension, lighter weight, and lowered center of gravity, the 2017 Q7 is exceptional for being a nimble seven-seater. It's shorter by 1.5 inches and narrower by 0.6 inches, yet there's more room in the cabin. A breathtaking 500 pounds was cut from the previous Q7 by using ultra-high-strength steel in the chassis, and aluminum for the front fenders, doors, hood, and liftgate.
The Q7 is one of the quietest and smoothest utility vehicles we've ever driven, with a remarkable ride quality. The engine is built in Hungary, the transmission in Germany, and the car assembled in Slovakia. It's evident they know something about how to do it all tight.
The 2017 Audi Q7 uses a fast and silky 3.0-liter supercharged V6 making 333 horsepower and 325 pound-feet of torque.
The engine is mated to an 8-speed automatic transmission with Tiptronic manual control. There's a driving dynamics system that now works with the optional adaptive air suspension for up to seven drive programs, including allroad.
Audi's quattro drives the wheels at 60/40 rear/front under normal conditions, but can move to 30/70 rear/front or 85/15 rear/front if needed for traction.
The EPA rates the Q7 at 19/25 miles per gallon City/Highway, or 21 mpg Combined. In more than 600 miles of driving, we averaged 19.9 mpg, at mostly high speeds out in the wide open prairies of eastern Oregon and Washington. The Q7 is superbly smooth at speed. It has some active safety features that at times seem a bit too active.
The IIHS gives the Q7 its highest rating, Top Safety Pick Plus, partly for all its safety features including the ability for it to practically steer itself.