2017 Audi A8 Introduction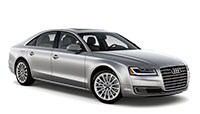 The 2017 Audi A8 and Audi S8 are the brand's largest luxury sedans. For 2017, the lineup has been simplified: All 2017 Audi A8 models ride on the long wheelbase, featuring greater back-seat space. The high-performance 2017 Audi S8, on the other hand, continues on the shorter wheelbase.
Two engines are available for the 2017 A8, a V6 and a V8. (The costly, heavy W12 engine and the turbodiesel V6 are no longer available.) 2017 Audi A8s come standard with the sport package, with its more aggressive bodywork, front and rear.
Built with a light but strong aluminum space frame, the refined A8 is a full-fledged contender against the biggest BMW and Mercedes-Benz sedans. Simple, sophisticated body contours help keep the A8 fresh as years roll by.
Audi's base engine, a supercharged 3.0-liter V6, develops 333 horsepower and 325 pound-feet of torque. If the V6 won't quite suffice, the twin-turbo 4.0-liter V8 generates a brawnier 450 horsepower and 444 pound-feet. That's enough to propel the A8 to 60 mph in a breathless 4.4 seconds. Both engines mate with an 8-speed automatic transmission and Quattro all-wheel drive. A dynamic handling package now includes a rear sport differential.
Numerous safety features include front knee and rear-side passenger airbags. Audi's Pre Sense system can tighten seatbelts before an impact occurs. Advanced safety technologies come in option groups, including adaptive cruise control with stop/go capability in traffic, blind-spot monitoring, lane-keeping assist, and Night Vision. Curiously, a rearview camera is optional, though parking sensors are standard.
Stepping way up the performance ladder, Audi's S8 unleashes a 605-horsepower, twin-turbo 4.0-liter V8 that develops 517 pound-feet of torque. The exterior might be plain, but occupants enjoy deep Valcona bucket seats, along with a rousing road experience. An S8 is able to hit 60 mph in a startling 3.7 seconds.
Only a few cues suggest the S8's potential: LED lighting, 21-inch wheels and quad oval tailpipes. Adaptive dampers and air springs help keep the S8 calm, when it's not being pushed hard. The S8's trunk is unusually small for a full-size sedan, and rear leg space is limited by the short wheelbase.