2017 Audi A4 Walk Around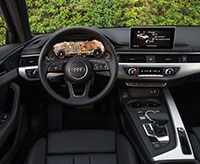 The 2017 A4 redesign can't be called adventurous or dramatic, but the front end does convey a more athletic stance, while the rear is taller and more emphatically wedge-shaped. The revised grille framing looks more appealing. Large glass areas taper smartly toward the roof.
Despite adopting a totally new platform, though, the basic proportions and silhouette have barely changed. Aerodynamically neat and clean, the basic body shape hasn't changed all that much since the first A4 debuted for 1996. Rather than bedazzle onlookers, the A4 profile aims to endure. Because the new structure is a trifle longer and wider, the 2017 A4 qualifies as a midsize sedan more than a compact.
Interior
Back-seat space has been an issue in previous A4s, which suffered from a low cushion and little knee clearance. Not anymore. In 2017 form, it's about as roomy as competitive, larger models, notably the BMW 3 Series. Audi claims that headroom has gained an inch, with 2.6 additional inches for front-occupant shoulders. Back-seat occupants now get a higher, supportive cushion.
Front seats have always provided space and support for comfortable, if snug, long-distance travel. Now, a 6-foot passenger can ride comfortably behind a 6-foot driver. In fact, five adults can fit inside, with improved comfort for each. Those up front get the most form-fitting, still rather snug, seats, with firm bolstering.
Functionality has improved. A low cowl gives the driver a greater field of vision. The steering wheel has shrunk a bit, with thumb controls easier to use.
With the available virtual cockpit, dazzling screens face the driver. Most models have done away with traditional-style gauges, in favor of changeable electronic displays that can switch from one view to another. Though displays are stunning, and they refresh quickly, the new system can be distracting initially. Base models have a 7-inch screen.
The latest version of Multi-Media Interface (MMI) accepts inputs from voice, steering-wheel controls, or handwritten letters on a scratchpad. All A4s now include smartphone-app features.