2017 Audi A4 Driving Impressions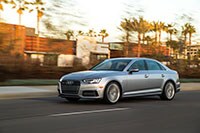 Making a single four-cylinder powertrain available was the sensible decision, since nothing is lacking in the 2017 A4. The turbo four has gained 29 horsepower for 2017. As a result, the A4 starts off with gratifying zeal, emitting smoothly balanced, natural engine sounds.
An evolution of earlier designs, the dual-clutch transmission has paddle shifters and complements the A4's sporty intent. Unlike some dual-clutch units, this one exhibits little jerkiness.
Road manners are impressive, even if certain competitors pull ahead in precise handling. Most models can be fitted with adaptive dampers. Well worth the $1,000 cost, the adaptive system softens minor bumps and ensures firmer control. A new mode in the electric power steering increases boost and broadens steering angle at low speeds, easing urban maneuvering. Brake action is progressive, with excellent pedal feel.
In Sport steering/transmission modes, with automatic damping, the 2017 A4 feels most adept. Far more capable than the previous model, it responds promptly and takes corners predictably.
Gas mileage has improved. With front-drive, the 2017 Audi A4 is EPA-rated at 25/33 mpg City/Highway, or 28 mpg Combined. Adding all-wheel drive lowers those figures to 24/31 mpg City/Highway, or 27 mpg Combined.