2017 Audi A3 Walk Around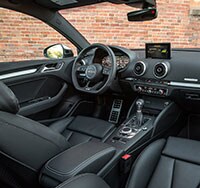 The A3's trim proportions and clean lines help it look classy when compared to its rivals with uninspiring designs. The Cabriolet is especially cool, with its folding cloth top nicely incorporated into its stubby design, just 175 inches long.
Interior
The conservative cabin design is attractive, with a chunky steering wheel and simple horizontal dashboard that comes from the A3's Volkswagen roots, and distinctive round vents. The 7.0-inch MMI infotainment screen rises from the top of the dashboard, as the system's knobs and buttons are easy to reach on the center console, including a touchpad that recognizes handwriting. An optional high resolution LCD screen that replaces the conventional gauges and can be set up with Google satellite view or images of analog gauges.
The materials are nice, including leather standard or sport seats. But both seats have short cushions, and legroom is tight for tall drivers. With its small footprint, the A3 can't be expected to have much interior room, but Audi hasn't done a great job of getting the most out of the design. The rear is cramped, only suitable for short periods of time for adults. High road noise doesn't help the comfort of passengers.
The hatchback offers a more versatile cargo area.