2017 Audi A3 Introduction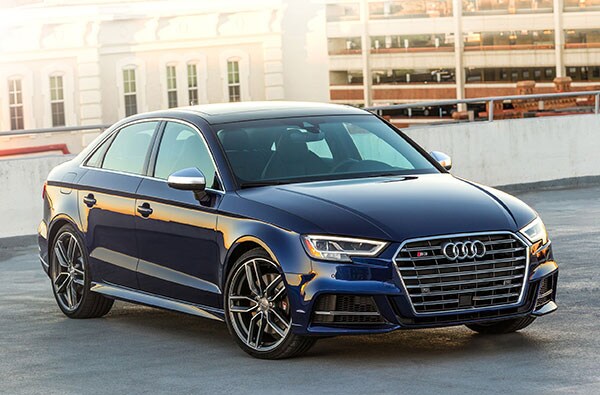 With Volkswagen Golf roots, the Audi A3 competes with premium small sedans and hatchbacks, including the Acura ILX and the stylish new Mercedes-Benz CLA. At a glance, it's hard to tell the A3 sedan from the Audi A4, even though it's smaller and the A4 is freshly redesigned. This is the third generation of the A3, revealed at the 2013 New York auto show.
The 2017 Audi A3 gets significant changes. There's a new grille for 2017 with aggressive front fascia and LED daytime running lights, and new standard Xenon or optional LED headlamps. The wheels and Audi MMI infotainment system are also new.
But the real upgrade for 2017 is a new engine: The former 1.8-liter four-cylinder is replaced with a 2.0-liter turbo with direct injection, making 220 horsepower. It's linked to just one transmission, a paddle-shifting 6-speed dual-clutch automatic manual.
Front-wheel drive is standard, with Quattro all-wheel drive available.
The 2017 A3 comes as a sedan, hatchback, cabriolet, and plug-in hybrid five-door hatchback, as well as the more sporty and powerful S3 (296 hp) that's remarkably balanced and offers good value.
The tidy A3 Cabriolet, using a power cloth top with glass window, doesn't have a lot of rivals, other than the Buick Cascada that's a bit bigger but not quite as polished.
The Audi S3 delivers a good performance value and is fun to drive, competing with the BMW M3 and Mercedes-Benz CLA 45 AMG.
The plug-in hybrid is called the A3 e-tron Sportback, based on the European version of the A3. It's an upscale rival to the Chevrolet Volt, although the Volt has a much farther electric range. The 204-horsepower e-tron uses a 1.4-liter turbocharged engine mated to an electric motor powered by an 8.8 kwh lithium-ion battery pack that can be recharged in four hours, using a Bosch home charger that's standard equipment. Although the e-tron is good for just 25 all-electric miles, as a hybrid using fuel it has a range of 500 miles.
Fuel mileage for the 2017 A3 sedan with all-wheel drive is an EPA-estimated 24/31 mpg City/Highway, or 27 mpg Combined. The Cabriolet gets two fewer miles per gallon, while the front-wheel-drive A3 hasn't been rated yet. Naturally, the e-tron Sportback gets the best mileage, at 34 mpg combined, or an EPA-rated 83 MPGe, using the full electric range.
In crash tests, the NHTSA gives the A3 five stars overall, with four stars for frontal collision and rollover; while the IIHS gives its highest rating, Top Safety Pick+.
There is no A3 diesel model. There used to be a TDI, but it was pulled from the market after Volkswagen/Audi got busted for cheating on emissions.