2016 Toyota Yaris Driving Impressions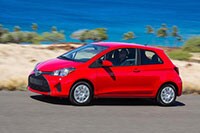 Compared to most subcompacts, the Yaris comes up short on performance and handling, as well as overall drive quality. Only if you pick the top-rung SE, with manual shift, can you expect a taste of driving exhilaration.
Small-car buyers don't necessarily crave roadgoing excitement, of course. Still, the Yaris provides a rather old-fashioned experience, yielding plenty of noise but not so much action. The low-powered, low-tech engine must be revved high to reach its peak torque output; and when it does, that engine is roaring.
Performance is best with the manual gearbox; but again, you have to keep engine revs high in order to elicit useful responses in around-town driving.
As for the obsolete 4-speed automatic, it's poorly matched to the ineffectual engine. Push the gas pedal to elicit more power, and you're likely to get loud, dramatic downshifts.
On the plus side, the electric power steering feels better than comparable units in other Toyota models. Steering effort eases at higher speeds, just as it should, and the Yaris stays on-center for confident control on the highway. Easy to park, a Yaris maneuvers smartly in urban traffic.
Rather soft spring rates limit the impact of pavement bumps and ripply roads. Roadholding improves with the stiffer suspension of the SE model, without impairing ride comfort appreciably. Brakes behave well, with less pedal mushiness than some rivals.
Expect comparatively good ride comfort for a car in this class. Bobbing up/down motions, common to short-wheelbase small cars, are minimal in the Yaris.
Fuel economy isn't as appealing as expected, EPA-rated at 30/37 mpg City/Highway or 33 mpg Combined, with manual shift. With automatic, as most Yaris's are equipped, the EPA Highway figure dips to 36 mpg.