2016 Toyota Sienna Walk Around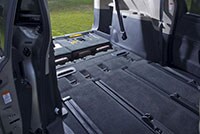 Measuring 200.2 inches long and 78.1 inches wide, the Sierra is emphatically a large van. Updating for the 2015 model year was a mild update, continuing the Sienna's basic configuration as an upright minivan with a familiar twin-box profile.
Glamour isn't part of the package, but few minivan buyers fret about style. Still, Toyota designers have given the Sienna a comparatively modern aura, with a front end that reflects the company's current design cues. The low grille tapers gently upward, toward a strictly traditional roofline. Utility is evident throughout the Sienna, with no controversial or questionable elements intruding on the basic look.
Interior
The Sienna is one of the most comfortable minivans, and ranks among the biggest. A sweeping, wide, contoured dashboard separates the driver and front passenger, giving the latter access to climate/audio controls. Upper models feature sizable color screens, while lower trim levels get smaller, black-and-white displays.
On the down side, horizontal plastic dashboard graining has a dull appearance. Matte woodgraining on upper models isn't much better.
At least five adults can find comfortable accommodations within the eight-passenger version. Front occupants enjoy pleasant, supportive seats. Between them lies plenty of storage space for small items.
Sienna stands tallest for its second row. The standard bench can slide to expand either cargo or passenger space. The removable segment may be stowed in the cargo space. Twin captain's chairs can substitute for the bench.
Reaching the third row isn't too difficult. Once there, expect adult-size space in each direction. Back seats fold nearly flat. With the third row upright, cargo space totals 39.1 cubic feet, growing to 117.8 cubic feet with second-row seats at their forward limit.